In addition to being one of the most basic necessities in life, food has become an item that is worth fortunes around the world. In some places, food items cost more than anyone could ever comprehend, making it to an exclusive list of unique dishes worldwide. While it's hard to believe that some people would spend a fortune in tasting one of these dishes, take a look into some of the most unattainable and expensive dishes sold in different restaurants all over the world.
1. Grand Belas Tacos: Worth $25,000
The Grand Belas Tacos is currently the most expensive food dish worldwide and can be found at the new Grand Velas Los Cabos Resort's restaurant in Mexico. You might wonder why on earth a taco dish so expensive? Apparently, the recipe is made of some of the priciest ingredients available out there, including Black Truffle Brie Cheese, Almas Beluga Caviar, and Kobe Beef, all served in a corn tortilla infused with gold flakes topped with a fancy and exotic salsa. 
2. Fortress Stilt Fisherman Indulgence: Worth $14,500
​Though the name doesn't say much, this incredibly expensive dish can be tasted in Sri Lanka, in the Fortress Resort and Spa. The dish is the most expensive dessert in the world, costing $14,500 for an indulgence that probably lasts 5 minutes. The dessert is made of a combination of stilt fisherman, which is carefully handmade from chocolate, Italian cassata, and Baileys Irish Cream. When served, the dish also comes with pomegranate and mango compote, a gold leaf, and a sauce made of champagne. 
3. Louis XIII Pizza: $12,000
​The Louis XIII Pizza dish is the priciest pizza in the world, and can only be found in Salerno, Italy. Renato Viola was the pizza pioneer who envisioned the perfect dough that takes 72 hours to rise before it is baked and is served with three different unique types of caviar: Kaspia Beluga, Oscietra Royal Prestige, and Kaspia Oscietra Royal Classic. There's more! The dish also includes a lobster that is imported from Norway, in addition to seven different kinds of cheese. 
4. Beluga's Almas Caviar: $9,884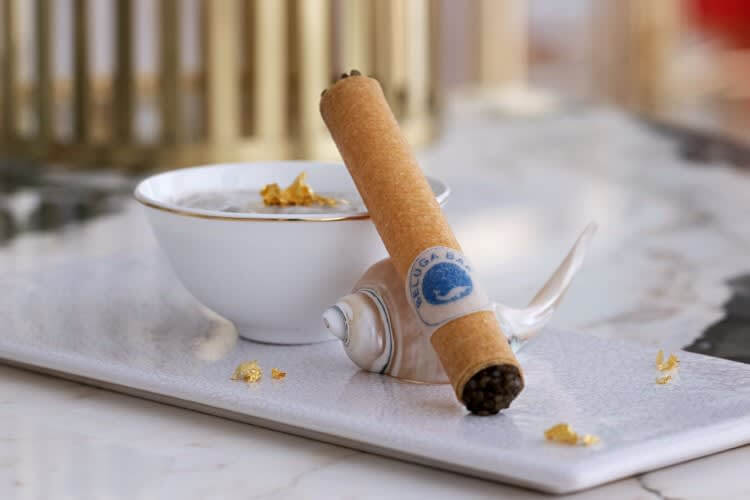 ​When we hear the word "caviar," we automatically associate the dish with a costly price tag. Yet, it doesn't really cross our minds that a caviar dish could cost as much as $9,884. The Beluga's Almas Caviar dish is served in Dubai, in a restaurant that specializes in serving caviar only. In addition to the caviar itself, the meal also includes a $422 Gloden Cigar made of 24 karats. Amongst all caviars in the world, Almas is the most unique and expensive one. 
5. Fleurburger 500: $5000
​Yes, that's right. There is a burger in the world that costs $5000, and it can be found at Fleur in Las Vegas. The dish features a couple of ultra-expensive ingredients that partially justify its mind-blowing price. The Fleurburger includes Wagyu beef, which originates from Japan, some duck fat topped with unique truffles, and a couple of slabs of foie grass. All of it comes in a fluffy brioche burger bun. If that wasn't enough, the burger is paired with a whole bottle of 1995 Petrus. 
6. 24K Pizza: $2,700
​Another pizza that costs an outrageous amount of money is the 24k gold pizza dish served in the Industry Kitchen of New York. Of course, the pizza is topped with a generous amount of gold leaf, that is worth hundreds of dollars alone. 24K pizza also includes imported truffles and cheese, foie grass, and Ossetra caviar. If we put things into perspective, one 24K pizza costs the equivalent of 168 pizzas at a regular pizza joint. 
7. Billion Dollar Popcorn: $2,500
​This 6.4 gallon tin of popcorn costs a whopping $2,500 at Berco's, in Chicago. While there are a couple of options for the dish, the most popular one is covered with gold flakes that are worth 23-carats, paired with some unique caramel sauce. The popcorn is also seasoned with a type of salt called Laeso, which is not easily found around the world. Uniquely, Berco's vows to donate all of the dish's proceeds to a local food bank.
8. White Truffle And Gold Pizza: $2,420
​The combination of truffle and gold in a dish is probably a very clear indication that its price could not be less than utterly expensive. Well, this gold and white truffle pizza costs $2,420, and was at one point the most expensive pizza in the world. The pizza is made of a very thin base, which combines buffalo mozzarella, a 24-carat gold leaf, and unique white truffles. The pizza is available only at Margo's Pizzeria located in Valletta, Malta. 
9. The Zillion Dollar Lobster Frittata: $2,000
​A hotel called Norma's in Le Parker Meridien, located in Manhattan, New York, serves the most expensive omelet in the world. The dish is even featured in the Guinness Book of World Records. The reason why it costs so much is that it entails a combination of distinctively selected ingredients that are not readily available anywhere else. The dish includes lobster, cream, Sevruga caviar, and lobster sauce mixed with six eggs. When served, the omelet comes in an aromatic bed of gold potatoes.
10. Golden Opulence Sundae: $1,000
​Another astonishingly expensive dessert, the Golden Opulence Sundae, features a unique Tahitian vanilla ice cream that is covered with several toppings. These include almonds, 23-karat gold leaves, orchid forged in lots of sugar and caviar. The dish is so complicated that it takes over eight hours to be prepared, and in order to be able to taste it, one has to order 48 hours before arriving at the restaurant. Other ingredients include raspberry macaron, white chocolate truffles, edible diamond, and vanilla beans that are imported from Madagascar.